About PinBot
PinBot is a simple Discord Bot that allows your server members to pin messages in your Discord server to a dedicated "pinboard" channel. We like to think that this allows you to save your server's greatest memories - or something cute like that.
You can use PinBot to create a channel with important information, awesome memories, a wall of videos or anything else your imagination can churn up. All you gotta do is add the bot and pin a message... That's it!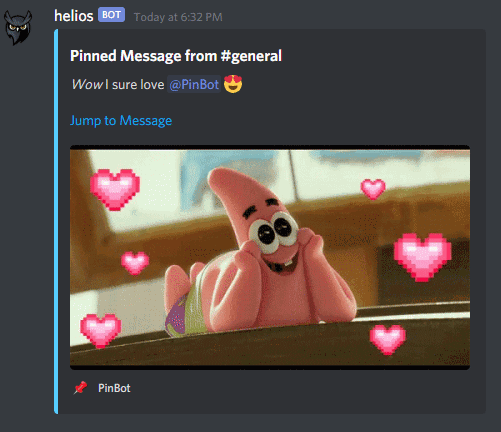 PinBot Commands
PinBot requires basically zero maintenance once you set it up, but here are some commands that may help you out...
pin.help
Shows a message containing these commands.
pin.info
Gives information about PinBot and provides a link to PinBot's Support Server.
pin.check
Checks to ensure that the basic permissions PinBot requires in order to function are set.
pin.invite
Provides more information on adding PinBot to your server.
pin.channel #channel
Set the pinboard channel where pinned messages will be saved.
pin.ping
Checks bot response time.
PinBot FAQ
Here's some questions and answers to some common issues with PinBot...
Simply pin the message via Discord by right clicking (PC) or long pressing (mobile) on the message and selecting "Pin Message". Note that your highest role in the server must have permission to manage messages:
The PinBot should create and set up the #pinboard channel once you pin a message after inviting it. However, if it doesn't work, make sure you try these things:
Use the pin.check command to ensure that PinBot has the necessary permissions.
Set the pinboard channel using pin.channel #channel-name
Wait a few moments and try again. Discord has a cooldown/rate limit on pins.
Use the Discord section/channel permission overrides to deny PinBot access to any channel(s) which you don't want included in the PinBoard. Remember, if PinBot can't read the message, it can't pin the message.